TAKE ACTION:
Click here
to urge your Senators to OPPOSE the anti-gun William Barr for Attorney General.
---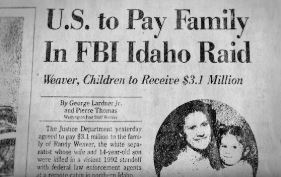 Last week, I wrote to you about all the gun control restrictions that William Barr supports.

As you know, Barr has been nominated by President Trump to be the next "top cop" in America.

Well, Barr's support for gun control is just the tip of the iceberg when it comes to reasons why the Senate should defeat his nomination.

An excellent article by James Bovard lays out Barr's role in planning and covering up the massacre of Randy Weaver's family at Ruby Ridge.
Read the entire article from the GOA website here: