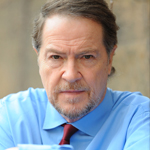 By John W. Whitehead
This is a wake-up call.
If you're still deluding yourself into believing that this thinly-veiled exercise in martial law is anything other than an attempt to bulldoze what remains of the Constitution and reinforce the iron-fisted rule of the police state, you need to stop drinking the Kool-Aid.
This is no longer about partisan politics or civil unrest or even authoritarian impulses.
This is a turning point.
Unless we take back the reins—and soon—looking back on this time years from now, historians may well point to the events of 2020 as the death blow to America's short-lived experiment in self-government.
Read the rest of this important article here: